Blessings of Gratitude: Dear Lord, as we celebrate this milestone of 60 years, we thank you for the gift of life, for the experiences that have shaped us, and for the wisdom that comes with age. May this birthday be a reminder of your abundant blessings.
Guidance in the Journey: Heavenly Father, as this individual enters a new chapter of life, guide their steps with your light. May the journey ahead be filled with purpose, joy, and a deepening connection with you.
Health and Vitality: Lord, we ask for your continued blessing of good health and vitality for this beloved soul. May their body and mind remain strong, allowing them to enjoy life to the fullest.
Family and Friends: Gracious God, surround this individual with the love and support of family and friends. May their relationships deepen and bring them comfort, companionship, and joy.
Inner Peace and Contentment: Merciful God, grant inner peace and contentment as they enter this new phase of life. May they find solace in your presence and embrace each moment with gratitude.
Wisdom and Discernment: Almighty God, we pray for wisdom and discernment in decision-making. May they continue to grow in understanding and use their experiences to bless others.
Purpose and Fulfillment: Heavenly Father, reveal the purpose you have for this person's life in this new season. May they find fulfillment in their pursuits and discover ways to contribute to your kingdom.
Joy in Every Day: Lord, infuse each day with joy and laughter. May they approach life with a positive spirit, finding delight in the simple pleasures and cherishing the moments that matter most.
Renewed Passion: Gracious Lord, reignite their passions and dreams. May this birthday mark the beginning of a chapter filled with exciting new adventures and opportunities.
Abundant Blessings: Loving God, shower them with your abundant blessings. May they experience prosperity in various aspects of life and find abundance in your grace.
A Heart of Compassion: Merciful Father, cultivate a heart of compassion and kindness within them. May they continue to touch the lives of others with their love and generosity.
Strength in Challenges: Almighty God, when challenges arise, grant them strength and resilience. May they find comfort in your presence and overcome any obstacle with unwavering faith.
Legacy of Faith: Lord, may their life be a testament to your grace and faithfulness. May they leave a legacy of love, faith, and hope for generations to come.
Protection and Guidance: Heavenly Father, surround them with your protection and guidance. As they journey through life, may they always find themselves under the shelter of your wings.
Eternal Celebration: Lord, as we celebrate this 60th birthday, we also anticipate the eternal celebration that awaits us in your presence. May this milestone remind us of the greater joy that is to come.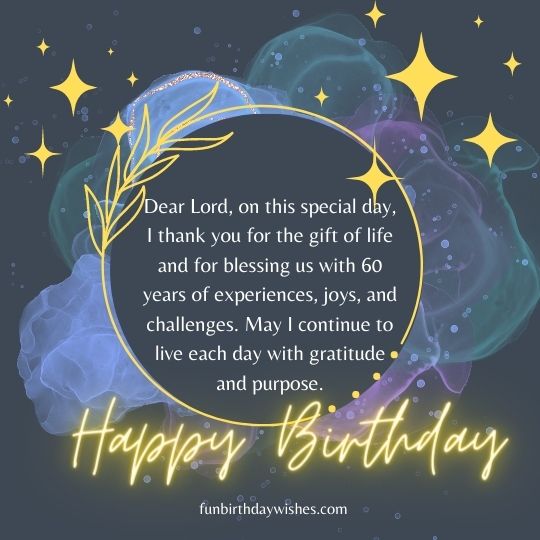 Gratitude Prayer: Dear Lord, on this special day, I thank you for the gift of life and for blessing us with 60 years of experiences, joys, and challenges. May I continue to live each day with gratitude and purpose.
Wisdom Prayer: Heavenly Father, as I enter this new phase of life, I ask for your guidance and wisdom. Help me make decisions that align with your will and bring blessings to those around me.
Strength Prayer: Lord, grant me the strength to face whatever comes my way in the years ahead. May I find courage and resilience in times of difficulty, knowing that you are always by my side.
Health Prayer: Precious Lord, I pray for good health and well-being in the years ahead. Bless my body and mind, and help me maintain a lifestyle that promotes vitality and longevity.
Family Prayer: Gracious God, thank you for the love and support of my family throughout the years. Please continue to strengthen our bonds and keep us united in love and understanding.
Friendship Prayer: Loving Creator, I am grateful for the friends who have walked with me on this journey. Bless these relationships and grant me the opportunity to create new connections that bring joy and companionship.
Legacy Prayer: Lord, help me leave a positive legacy for future generations. Guide me to use my experiences and wisdom to make a meaningful impact on the lives of those around me.
Joy Prayer: Heavenly Father, as I celebrate this milestone, fill my heart with joy and laughter. May I continue to find happiness in simple pleasures and cherish the moments of each day.
Purpose Prayer: Gracious God, show me the purpose you have for me in this new chapter of life. May I discover and pursue the passions that align with your plan for my life.
Forgiveness Prayer: Merciful Lord, grant me the grace to forgive those who have hurt me and to seek forgiveness from those I may have wronged. Help me live a life of reconciliation and healing.
Faith Prayer: Dear Lord, strengthen my faith as I grow older. Help me trust in your divine plan and find comfort in the knowledge that you are always with me.
Patience Prayer: Loving Father, teach me patience and contentment as I navigate the challenges of aging. Grant me the grace to accept life's changes with grace and resilience.
Generosity Prayer: Heavenly Provider, thank you for your abundant blessings. Help me be generous with my time, resources, and love, spreading your goodness to others.
Gracious Aging Prayer: Gracious God, as I embrace the process of aging, grant me the grace to do so gracefully. May I find beauty in each stage of life and grow in wisdom and grace.
Eternal Hope Prayer: Lord, as I celebrate my 60th birthday, remind me of the eternal hope I have in you. May my faith in your promises sustain me and fill me with anticipation for the future you have prepared for me.
Other Articles