Bats in flight, a spooky sight,
Underneath the pale moonlight,
Halloween's here, a chilling delight,
Ghosts and goblins, prepare for the fright!
Witches brew their potions dark,
In cauldrons, they stir and hark,
Spells and curses, a sinister spark,
Halloween's magic, a mystical embark.
Pumpkins carved with eerie faces,
Haunted houses in spooky places,
Trick or treat in all the spaces,
Halloween's joy, in many cases.
Skeletons dance in the dead of night,
Underneath the pale moonlight,
Bones clatter and spirits take flight,
Halloween's thrill, a ghoulish rite.
Candy corn and treats so sweet,
Children dressed up, from head to feet,
Trick or treating, a fun-filled feat,
Halloween's sugary, a delicious greet.
Black cats with eyes that gleam,
In the darkness, a haunting dream,
Cross their path, a superstition extreme,
Halloween's mystery, a timeless theme.
Zombies groan, mummies unwrap,
In the graveyard, the undead trap,
Shivers down your spine, a creepy nap,
Halloween's terror, in a bone-chilling lap.
Moonlit night, shadows cast,
Wicked spells from the distant past,
Halloween's spell, it will last,
A haunting memory, a spellbound grasp.
Ghouls and specters, come alive,
In the moon's glow, they contrive,
Trick or treaters, they connive,
Halloween's haunting, watch them thrive.
Jack-o'-lanterns with eyes so bright,
Glowing in the dark, a fearsome sight,
Halloween's lantern, a beacon in the night,
Guiding you through the eerie fright.
Broomsticks and hats, witches ride high,
Across the sky, they cackle and fly,
Halloween's enchantment, oh my, oh my,
A magical broom, let's give it a try.
Costumes, masks, and disguises to wear,
Halloween's fashion, a chance to dare,
Become someone else, if you dare,
A night of make-believe, a wondrous affair.
Cobwebs hang in abandoned places,
In the corners, in forgotten spaces,
Halloween's decor, chilling traces,
Of spiders and their webby embraces.
Spirits whisper in the autumn breeze,
Amongst the trees and rustling leaves,
Halloween's secrets, they tease,
A ghostly presence, hidden in the eaves.
Goblins grin with wicked glee,
As they plot their pranks with glee,
Halloween's mischief, don't you see,
A night of trickery and mystery.
Haunted hayrides, a spooky ride,
Through the woods, where shadows hide,
Halloween's adventure, don't let it slide,
A thrill in the darkness, nowhere to confide.
Halloween night, the veil is thin,
Between the worlds of loss and win,
Ghosts and spirits, they begin,
To walk among us, the ancient kin.
Full moon in the midnight sky,
Casting an eerie glow up high,
Halloween's moon, a silvery sigh,
A supernatural light, a curious why.
Children's laughter, as they roam,
In search of candy, a sugar comb,
Halloween's joy, away they roam,
A night of wonder, far from home.
Trick or treat, the choice is yours,
As Halloween's adventure tours,
Dress up and knock on the doors,
A night of fun, and maybe some snores
On Halloween night, the moon shines bright,
Ghosts and goblins take their flight,
In the haunted dark, they roam,
This is Halloween, welcome home!
Witches brew and cauldrons bubble,
Spooky sounds, oh, how they trouble,
Trick or treat, the children say,
Halloween's here, it's time to play!
Jack-o'-lanterns with grinning faces,
Haunted houses in eerie places,
Creepy crawlies, a spooky sound,
Halloween's magic all around.
Skeletons dancing in the pale moonlight,
Ghouls and zombies come to bite,
Halloween's chill, the air so cold,
In this spooky night, secrets unfold.
Costumes wild, and masks to wear,
Scary stories for a frightful scare,
Halloween's upon us, don't be late,
It's the perfect time to celebrate!
Witches' brooms and magic brew,
A black cat with an eerie mew,
Halloween's spell, a wicked delight,
In the darkness, we take flight.
Bats in flight, with wings so wide,
Cackling witches on a ghostly ride,
Halloween's here, a bewitching spree,
A night of fright and mystery.
Pumpkins carved with faces grinning,
Candles flicker, a new day beginning,
Halloween's here, the spirits play,
In the haunted night, they'll stay.
A howling wind, a harvest moon,
In the darkness, shadows loom,
Halloween's call, the spirits rise,
Underneath the starlit skies.
The rustle of leaves in the midnight breeze,
On Halloween night, we do as we please,
A trick or a treat, it's all in good fun,
As we celebrate until the rising sun.
Ghosts and goblins on parade,
In costumes, not a soul to evade,
Halloween's magic, a time to roam,
With laughter and spookiness in our home.
An orange moon, a spooky sight,
A black cat crosses, brings delight,
Halloween's here, a time to scare,
With costumes, candy, and a wicked glare.
Beneath the stars, the shadows play,
On Halloween night, they have their say,
Whispers of ghouls and eerie tunes,
In this haunted evening, beneath the moons.
Haunted houses, creaking floors,
On Halloween night, we open doors,
To creatures lurking, under the bed,
A night of tricks or treats ahead.
The witch's brew in a cauldron's stew,
With potions and spells, they'll ensnare you,
Halloween's here, a night to dread,
As the spirits rise from the realm of the dead.
Beneath the veil of twilight's glow,
Halloween's spirits begin to show,
Monsters, vampires, and mummies too,
In the darkness, they come for you.
Skeletons rattle, and zombies groan,
In the eerie night, you're not alone,
Halloween's upon us, a chilling spree,
A time for fright and revelry.
A cloak of darkness, a moon so bright,
Halloween's the time for a ghostly flight,
With tricks and treats and a lot of fun,
The spooky festivities have just begun.
Witches' spells and potions brew,
Bats and spiders in the night's view,
Halloween's magic, a time to beware,
As the moonlight dances on the cool night air.
As the night falls and the stars align,
Halloween's enchantment is truly divine,
With costumes and candy, we'll celebrate,
In the realm of spooks and spirits, we participate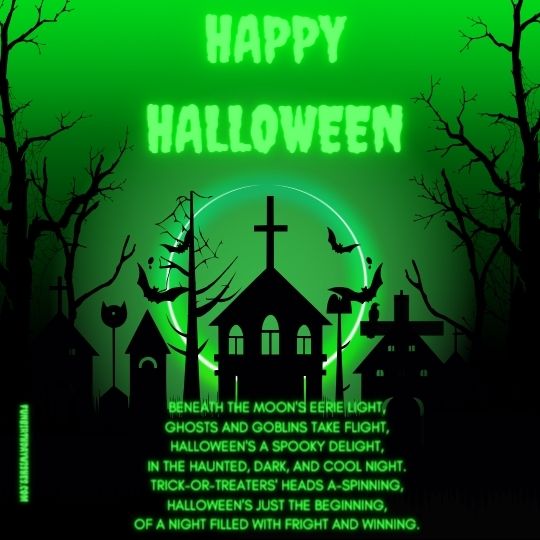 Beneath the moon's eerie light,
Ghosts and goblins take flight,
Halloween's a spooky delight,
In the haunted, dark, and cool night.
Trick-or-treaters' heads a-spinning,
Halloween's just the beginning,
Of a night filled with fright and winning.
A black cat with eyes so bright,
Crosses your path on this eerie night,
Superstitions take their flight,
Halloween's filled with strange insight.
Skeletons dance in the pale moonlight,
Bones clatter, a spectral sight,
On this chilling, eerie night,
Halloween's phantoms take flight.
Zombies rise from their darkened graves,
Stirred by a spell, their terror raves,
In the haunted woods, they're slaves,
Halloween's the night no one saves.
The witch's broom sweeps the sky,
As she cackles and flies high,
On her eerie journey, oh my,
Halloween's a night to say goodbye.
Cobwebs cling to the haunted door,
As you venture in, a little more,
Halloween's tricks and treats galore,
A night like never before.
Bats swoop down with wings so wide,
In the inky darkness, they glide,
Halloween's secrets they do hide,
In the shadows where they bide.
Halloween's the night of dread,
Monsters under your bed,
Lurking, waiting to be fed,
Creeping closer, filled with dread.
Ghouls and specters, don't you flee,
Halloween's for you and me,
In the dark, we're wild and free,
A haunting night for all to see.
Potions brewed with mystic spells,
Underneath the witches' bells,
Halloween's where magic dwells,
In the haunted, eerie spells.
Jack-o'-lanterns with eerie grins,
Flickering in the night, it begins,
Halloween's where the fun wins,
As the darkness thickly spins.
In the graveyard, silence grows,
Among the tombstones, spirits pose,
Halloween's a night where terror flows,
As the moon in the night sky glows.
The werewolf's howl, a haunting sound,
In the haunted forest, where he's found,
Halloween's on cursed ground,
Where monsters lurk, all around.
Beneath the moon's ghostly light,
The haunted house comes into sight,
Halloween's the spookiest night,
Full of fright and eerie might.
Mummies wrapped in ancient thread,
From the tombs where they are spread,
Halloween's a night of dread,
In the world of the walking dead.
Wraiths and phantoms, spirits untamed,
In the graveyard where they're named,
Halloween's where they're famed,
In the darkness where they're framed.
Children in costumes, so unique,
As trick-or-treaters play hide and seek,
Halloween's a night so sleek,
With candy treats and spooky mystique.
As the night draws to a close,
And the moon in the darkness glows,
Halloween's enchantment, it bestows,
In the realm where spookiness flows.
Other Articles