Bats flying in the spooky night,
Glowing pumpkins, a spooky sight,
Costumes, candy, and lots of fun,
Halloween's here for everyone!
Witches on broomsticks in the sky,
Ghosts and goblins passing by,
Trick or treat, oh what a treat,
Halloween's here, can't be beat!
Jack-o'-lanterns with a spooky grin,
Children in costumes, ready to win,
Candy and sweets, a Halloween cheer,
The best time of the year is here!
Spiders crawling on the wall,
Skeletons dancing down the hall,
Halloween night is a special delight,
With the moon so big and so bright!
Mummies wrapped in bandages tight,
Owls hooting in the spooky night,
Trick or treat, in the dark we roam,
Halloween, we're coming home!
Pumpkins carved with faces so funny,
Witches brewing potions, making it sunny,
Halloween magic in the air,
A night of fun, if you dare!
Black cats with eyes so bright,
Haunted houses in the moonlight,
Halloween's a time to play,
With friends and family, hooray!
Zombies, werewolves, monsters, oh my,
Under the eerie, starry sky,
Costumes and candy, a Halloween spree,
For all the little ones like you and me!
Bats and owls up in the trees,
Squeals of laughter, if you please,
Trick or treating, so much to explore,
Halloween's a night we all adore!
Ghosts floating in the night,
Beneath the pale, silver moonlight,
Spooky stories, a chilling delight,
Halloween's here, a thrilling sight!
Pumpkin patches and corn mazes too,
Cackling witches and spells they brew,
Halloween's a time to celebrate,
With friends and family, it's fate!
Candy corn and caramel apples sweet,
Trick or treating on every street,
Halloween's the time to be,
A superhero or a spooky tree!
Goblins, skeletons, and more,
Knocking on each neighbor's door,
Trick or treat, the magic's begun,
Halloween night, let's have some fun!
Haunted houses, so much fun,
With cobwebs hanging, one by one,
Ghosts and monsters, a thrilling spree,
Halloween's here for you and me!
Witches on broomsticks high,
Underneath the starry sky,
Halloween's a time to play,
With costumes and treats, it's a special day!
Pumpkins glowing with faces so bright,
Carved in the cool, dark night,
Halloween's a time to be,
Anything you want, can't you see?
Werewolves howling at the moon,
Spooky music, a ghostly tune,
Trick or treat, fill up your sack,
Halloween's here, don't look back!
Spiders weaving webs with care,
Pirate costumes, and a vampire's stare,
Halloween's a time for delight,
With candy and treats, what a sight!
Bats flying high in the sky,
Pumpkins lit, oh my, oh my!
Halloween night is finally here,
A night of fun and spooky cheer!
Ghosts and ghouls, a frightening crew,
But don't you worry, they won't harm you,
Halloween's a time to play and sing,
With costumes, candy, and the joy it brings!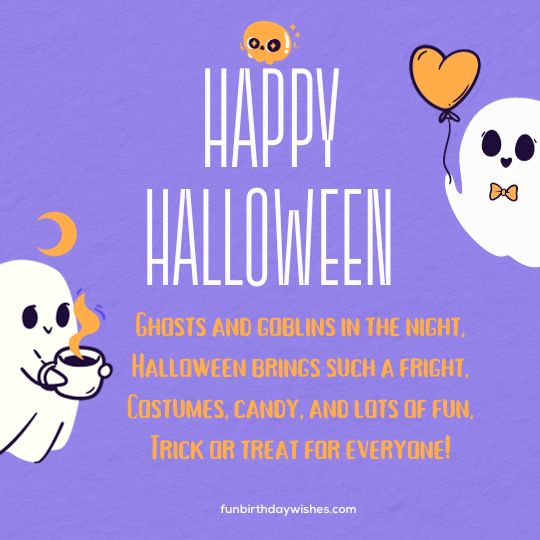 Ghosts and goblins in the night,
Halloween brings such a fright,
Costumes, candy, and lots of fun,
Trick or treat for everyone!
Pumpkins glowing, faces bright,
Jack-o'-lanterns in the night,
Spooky stories, whispered low,
Halloween is quite a show!
Witches flying on their brooms,
In the dark, they cast their gloom,
Halloween, a magical night,
With spells and potions, oh so right!
Skeletons dancing, bones a-clatter,
Halloween is such a splatter,
Trick or treat, don't be shy,
Come join the fun, oh my, oh my!
Bats and spiders in the air,
Creeping, crawling, everywhere,
Halloween's a spooky delight,
A full moon shining, oh so bright!
Monsters hiding under the bed,
With fangs and claws, they fill with dread,
But remember, it's all for play,
On Halloween, we're here to sway!
Costumes of heroes, princesses too,
Kids dressed up as something new,
Trick or treat, bags in hand,
Walking through the Halloween land.
Mummies wrapped in ancient cloth,
Walking slowly, nothing's off,
Candy treasures, we'll explore,
On this Halloween, we'll ask for more!
Haunted houses, creaky floors,
Ghostly howls and eerie roars,
Halloween's a thrilling ride,
With friends and family by your side.
Zombies rising from the ground,
Moaning with a spooky sound,
Halloween night, the time is here,
To celebrate with joy and cheer.
Black cats with their glowing eyes,
Cross your path, but don't be surprised,
They're friendly on this special day,
Halloween brings laughter and play!
Ghouls and goblins, monsters galore,
Knocking on the door for more,
Trick or treat, don't be afraid,
Halloween's a magical escapade.
Potions brewing in a pot,
Witches stirring, a mysterious lot,
Cauldrons bubble, spells take flight,
On Halloween, it's quite a sight!
Candy corn and chocolate bars,
Fill up our Halloween jars,
Sweet treats all around the place,
Smiles on every little face.
Pirate ships on a spooky sea,
Searching for treasure, you and me,
Halloween adventure, hoist the sail,
Let's set forth on this scary tale!
Broomsticks flying, high in the air,
Witchy tricks and spooky flair,
Halloween night, the moon's aglow,
To make our imaginations grow.
Pumpkin patches, fields of orange,
Carving faces, what a challenge,
Halloween's a pumpkin delight,
With candle glow to light up the night.
Werewolves howling at the moon,
On this eerie Halloween, they croon,
A night of magic, so much fun,
Under the light of the harvest sun.
Frankenstein, a friendly fellow,
In a world so strange and mellow,
Halloween, a time to be,
Anything we want, can't you see?
Halloween's a special day,
Where imaginations come out to play,
In costumes, we all unite,
For a spooktacular, sweet-filled night!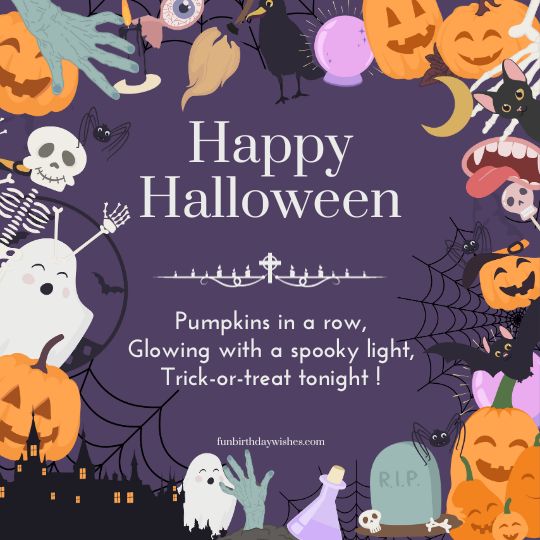 Pumpkins in a row,
Glowing with a spooky light,
Trick-or-treat tonight!
Witches on their brooms,
Zooming through the dark night sky,
Halloween is nigh.
Ghosts go, "Boo!" and hide,
In the shadows, they'll confide,
Halloween is their guide.
Candy in our bags,
Sweet and sticky, yum so nice,
Halloween is spice!
Mummies wrapped up tight,
Creeping through the spooky night,
What a funny sight.
Skeletons do dance,
Bones a-rattling in a trance,
Halloween's their chance.
Black cat, eyes so bright,
Cross your path on Halloween night,
Everything's alright.
Spider spins a web,
In the corner, near your bed,
Halloween is spread.
Bats fly in the air,
With wings so dark and bare,
Halloween's in the lair.
Werewolves howl and growl,
Underneath the moon's fierce scowl,
Halloween on the prowl.
Jack-o'-lantern's grin,
Cuts a spooky, toothy grin,
Halloween to win.
Trick-or-treaters come,
Dressed up for some Halloween fun,
Under the moon and sun.
Haunted house so tall,
Ghosts and ghouls inside the hall,
Halloween for all.
Candy corn so sweet,
In a colorful, tasty treat,
Halloween can't be beat.
Frankenstein's alive,
With bolts upon his neck, he'll thrive,
Halloween is jive.
Wiggly, creepy crawl,
In the dark, the creatures sprawl,
Halloween's a ball.
Costumes make us new,
Princess, pirate, monster too,
Halloween, it's true.
A cauldron bubbling,
Witches brew, their spells jumbling,
Halloween humbling.
Scarecrows in the field,
Guarding crops, their purpose sealed,
Halloween's revealed.
Halloween is here,
With costumes, candy, and cheer,
The spookiest time of the year!
Other Articles